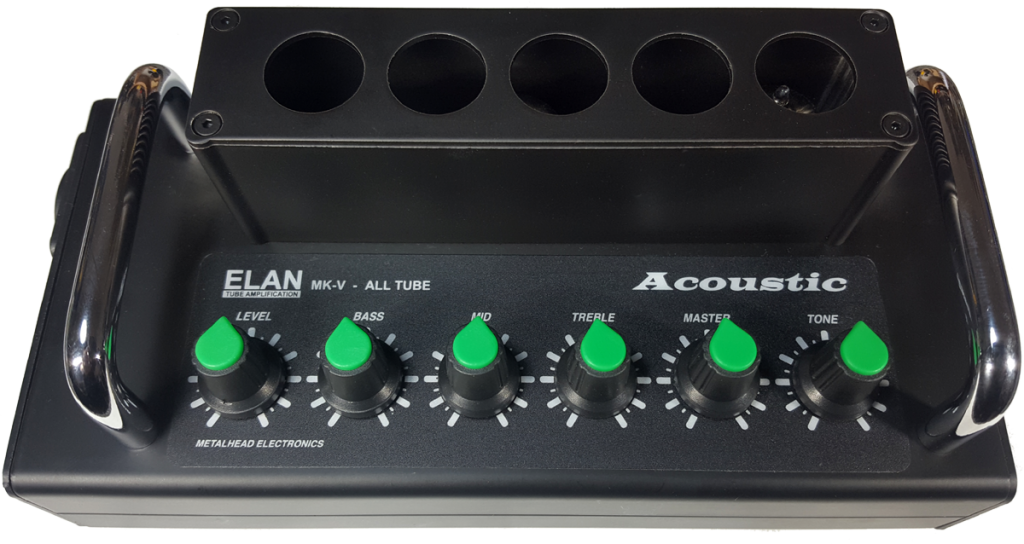 Perfect Tool For Ampless Stages, Studio and Traveling Musicians.
The feel and sound of a real  tube Amp directly from your pedal board
The  Acoustic– All Tube Acoustic Floor preamp
This is a patent pending tube circuit and design that was developed by Elan and it is dedicated for acoustic guitars and acoustic instruments, rich punchy with endless headroom will make you sound even better..
The MK5 "Acoustic" is an all-tube floor preamp perfect for acoustic guitar as well as any other acoustic instruments.
It will also make your electric guitar sound convincingly acoustic with sparkling clean tone and headroom like you're never heard.
NO STARVED 12AX7 TUBE PLATE INSIDE! – The Elan MK5 circuit perform  exactly like the full-size tube amplifiers with 12AX7 plate high voltage of over 300VDC.
Featues:
2  12AX7 Tubes
LIMITED LIFETIME WARRANTY*
Bass, Mid, and Treble controls
Gain control
Master volume

DI Balanced output 
Detachable footswitch
Real through bypass
Lightweight about-  2 Lb!
Small size 7.5″ X 3.5″ (18X9 cm)

Universal 100-240V 15VDC for worldwide use