MK-5 Handmade PTP All-Tube Floor Preamps/Pedal
Rich and Warm, Dynamic and Natural Vacuum Tube Sound in a Travel Size Package
Perfect Tool For Ampless Stages, Studio and Traveling Musicians.
The feel and sound of a real tube Amp from your pedal board
The ELAN MK-5 series are a new all-tube floor preamps, a challenging and innovated engineering design, featuring a full, rich warm and tight tube sound in a  travel-size package without the bulkiness and weight of regular tube amplifiers.
The Elan MK5 preamps are based on the classic UK and US made tube amplifiers modifications done by Elan for many well known musicians amps for the past 30 years.

Each of the five MK-5 preamps model has a full and unique adjustable tone characteristic.
NO STARVED 12AX7 TUBE PLATE- The Elan MK-5 circuitry perform identically to full-size tube amplifier with 12AX7 plate high voltage of over 350VDC.
Each preamp is personally tested and tweaked for best performance.

________________________________________________________________________________________________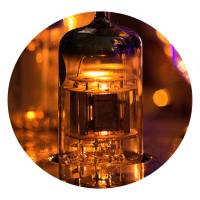 Five Models of the ELAN MK-5:
Dino– High Gain Hard Rock/Metal
Jimmy– Rock/Pop/Punk
King- Blues, Country
Acoustic– All Tube Acoustic Floor preamp
Bass– All Tube Bass Floor Preamp
The "Dino" all-tube floor preamp is a tribute to Fear Factory guitarist Dino Cazares and his contribution to the Industrial Metal Genre.
The "Jimmy" all-tube floor preamp is a tribute to Led Zeppelin guitarist Jimmy Page and his contribution to the history of rock music.

The "King" all-tube floor preamp is a tribute to the American blues singer/songwriter, and guitarist BB King and his contribution to the history of blues.
The MK5 "Acoustic" is an all-tube floor preamp perfect for acoustic guitar as well as any other acoustic instruments.
It will also make your electric guitar sound convincingly acoustic with sparkling clean tone and headroom like you're never heard.

The MK5 "Bass" is an all-tube floor preamp dedicated to bass guitar, with headroom and punch that you can only dream of.
This all-tubes bass floor preamp will make your bones rattle!

The Elan MK5 electronics circuits are based on the famous amp modifications developed years ago by Elan Memran for Dino Cazares ( Fear Factory), "Armored saint", "Saga" Ernie C. "Body Count", LA Guns, Randy Piper-"Wasp" and many other guitar player.
Featues:

12AX7 Tubes

LIMITED LIFETIME WARRANTY

*




Bass, Mid, and Treble controls

Gain control

Master volume

Noise-gate built-in (Dino model)

DI Balanced output (Bass & Acoustic model)

Detachable footswitch

Real through bypass

Lightweight about- 2 Lb!

Small size 7.5″ X 3.5″ (18X9 cm)


Universal 100-240V 15VDC for worldwide use




Package contains

1 Elan MK-5 floor preamp


1X Foot switch

1X FS cable

1X universal world power supply

1X Luxury wooden case packing
Elan Memran with Jeff Loomis, Keith Merrow and Dino Cazares
---
Contact us
---
[whohit]Home[/whohit]
---