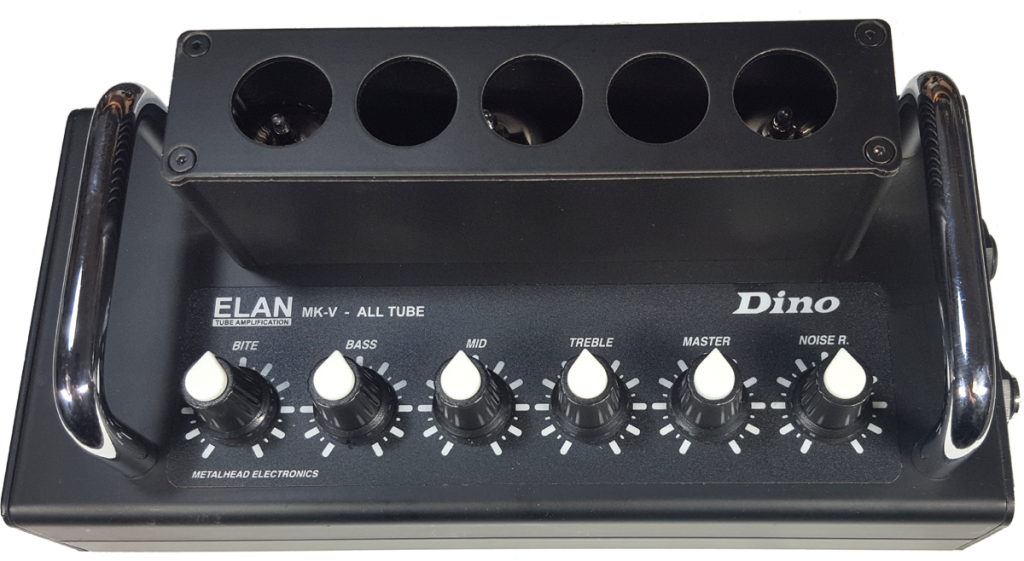 Perfect Tool For Ampless Stages, Studio and Traveling Musicians.
The feel and sound of a real  tube Amp directly from your pedal board
The Dino– For High Gain Hard Rock/Metal
Rhythm Demo for the MK5 Dino plugged into the Efx loop of Meaaa Boogie Mark V
The Elan MK5 Dino Rhythm and Lead all played on the Dino Preamp
The Elan MK5 electronics circuits are based on the metalhead famous amp modification developed years ago by Elan Memran for Dino Cazares ( Fear Factory) Marshall Head, this Elan's Marshall modification is the sound Dino uses on many famous Fear Factory albums
This "Dino" all-tube floor preamp is a tribute to Fear Factory guitarist Dino Cazares and his contribution to the Industrial Metal Genre.
NO STARVED 12AX7 TUBE PLATE INSIDE! – The Elan MK5 circuit perform  exactly like the full-size tube amplifiers with 12AX7 plate high voltage of over 300VDC.
MK5 User Instructions:
Plug your guitar to the MK5,  for best sound its recommended use the EFX Loop return bypassing your amp tone circuit and preamp.  or, set your amp to a flat clean sound and let the MK5 do the job,
Marshall amps have aggressive tone circuit and preamp, if you do not use the efx loop and plug into the front,  just set all tone controls of the Marshall or the MK5 to 0 and use only its gain and volume controls, use only one tone circuit.
Featues:
3  12AX7 Tubes
LIMITED LIFETIME WARRANTY*
Bass, Mid, and Treble controls
Gain control
Master volume
Noise-gate built-in

Detachable footswitch
Real through bypass
Lightweight about-  2 Lb!
Small size 7.5″ X 3.5″ (18X9 cm)

Universal 100-240V 15VDC for worldwide use